Website Maintenance and Security
Websites require consistent monitoring and updating in order to keep the coding up-to-date with current Internet and WordPress requirements. Without these updates, your website could be hacked into, or could have coding issues that crash your site. Additionally, website security is crucial in today's world where hackers use automated programs to repeatedly try to login to your website. While we include a basic security measure in each site we build, we HIGHLY recommend you invest in a robust firewall that blocks hackers and checks for malicious code.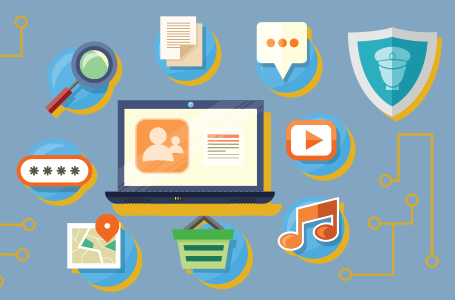 Program Options:
Basic Website Updates: $300/year*
Includes updates to WordPress, Theme, and Plugins as needed throughout the year
Advanced Website Updates: $450/year*
Includes updates to WordPress, Theme, and Plugins as needed throughout the year, and Security and Website Scanner.
Security & More: $1200/year*
Includes updates to WordPress, Theme, and Plugins as needed throughout the year; Security Firewall and Website Scanner; one BASIC update per month to current website text and images (new pages or sections not included); Daily backup of website to secure server.
*These are annual programs requiring payment in full upon signup. 
Marketing & Branding Basics
Your website is up, you have programs, services, and/or products to offer, and now it's time to start interacting with current and potential clients and let them know how you can help them! There are many great ways to do this, but let's start with some of the basics we recommend.
The Google Connection: $400 one-time set-up
We set up your business for maximum Google integration and Search Engine Optimization (SEO) including creating a Google account specifically for your business if needed, as well as set-up of Google My Business, Google Search Console, Google Analytics, and Google Tags.
Social Media Account Set-up: $325 one-time set-up
We create up to 4 social media accounts for your business with consistent branded imaging across all channels. (Most businesses start with Facebook, Twitter or Instagram, LinkedIn, and YouTube)
Online Business Listing: $175/yr*
This puts your business name, address, hours, images, and details on numerous online business directories in order to help people find you more easily when they search the Internet. We coordinate your information with your Google My Business info, Facebook and other online directories to help your organic Search Engine Optimization. 
Social Media & Client Communication Program: $450/month
We create and post custom content to your social media channels three times a week. We "like," "follow," "share" and periodically comment on posts by other people and companies that can increase your online exposure. And, we create and send Monthly newsletter (using your newsletter host) to keep in touch with new and potential customers and remind them that you are here to help!
Strategic Business Building
Businesses of every size benefit when they plan and build strategically. We guide you through the foundation-building and planning process to help develop a business that aligns your values, culture and brand. 
Business Strategies Circle. $195/mo for 6 months.
This is an online monthly program that is part workshop, part mastermind. Each meeting includes a discussion and exercises/homework related to creating your business strategy, as well as open discussions regarding challenges and solutions shared by the group.  Each session is 60-90 minutes; Participants will have access to a private LinkedIn group for on-going interactions, advice, and support; Group size is limited to 6 people
Next group starts February 4th, 2021
Receive a 20% discount when all six sessions are paid in full.
One-on-One Business Consulting Package:
Six 90-minute sessions can be used anytime over the course of a year. $550/6 sessions*
*Must be paid-in-full upon signup. 
On-demand consulting sessions: 
Up to 2 hours each: $150/session